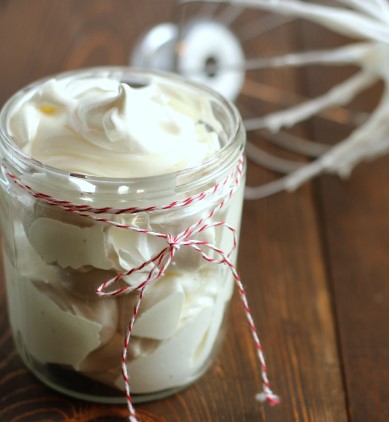 Ingredients
¼ cup shea butter
¼ cup cocoa butter
¼ cup coconut oil
¼ cup sweet almond oil
10-20 drops of essential oil (optional)
Directions
Combine all ingredients, except the essential oils, in a small pot or double boiler.
Gently melt and stir over medium-low heat until the mixture is liquid.
Remove from the heat and allow the mixture to partially set up. (you can place in the fridge or freezer to speed this process)
Once the mixture is partially set, add the essential oils of your choice, and whip with a hand mixer or stand mixer until the body butter is fluffy and stiff peaks have formed.
Spoon into a jar and apply anywhere on the body. Or, gift as a gift!
Credit
The Prairie Homestead